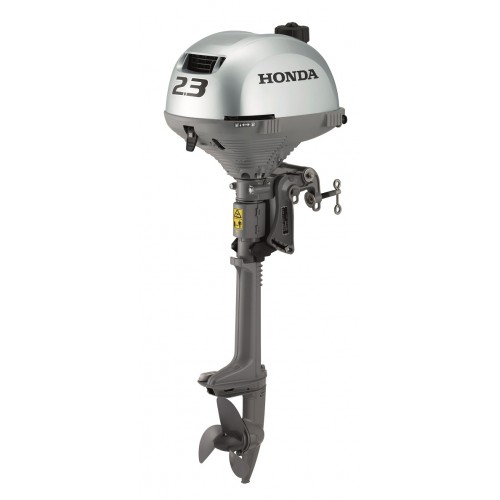 RRP: £760.00 (SCHU) / £790.00 (LCHU)
The Honda BF2.3 is a single cylinder 4-stroke outboard engine designed to spin freely with the first pull, making the engine easier to start. Plus accurately controlled ignition timing, means the BF2.3 air-cooled engine will never let you down even from cold start. Simple to operate, easy to keep clean and low maintenance, the Honda BF2.3 provides reliability, superior fuel efficiency and low emissions. The engine can also build more solid torque if required to move heavier crafts, making it an ideal auxiliary engine.
Twist and go : a centrifugal clutch allows the engine to idle without turning the propeller blades. When you want to move, just roll on the power and the clutch will engage and drive the propeller.
Round and round : to change direction quickly, a quick swivelling action allows reversing without changing gears. Swing the tiller handle through 180

°

and the boat goes backwards, allowing you to manoeuvre round a harbour or tight spots easily.
Pick up and go : with a weight of 14kg the Honda BF2.3 is the lightest engine in its class and is easy to pick-up and carry, with an ergonomic handle positioned at the exact point of balance to allow you to walk normally without feeling any strain.
Protect your prop : light weight and easy to tilt up out of the water, helping to prevent damage to propeller blades when you find yourself in shallow waters or at the waters edge. A spring design, allows engine to be locked down safely when you're on the move again.
| | | | | | | | | | |
| --- | --- | --- | --- | --- | --- | --- | --- | --- | --- |
| Engine Type | Valves | Displacement | Bore x Stroke | Full throttle range | Rated Power | Cooling System | Starting | Trim Method | Shaft Length |
| 4st Forced air cooled | OHV 1-Cylinder | 57cc | 45 x 36 mm | 5000 - 6000 RPM | 1.7kW | Forced air cooled | Manual | Manual | 15" , 20" |
Dimensions:
Short shaft 410(L) x 280(W) x 945(H) MM
Long shaft 410(L) x 280(W) x 1100(H) MM
PLEASE BE ADVISED THAT WE CURRENTLY DO NOT HOLD STOCK OF BF2.3LCHU OUTBOARD ENGINE. DELIVERY LEAD TIME ON THIS MODEL IS CURRENTLY ADVISED AS OCTOBER/NOVEMBER 2021.
Honda 2.3HP 4-stroke Outboard Engine | Tiller Control