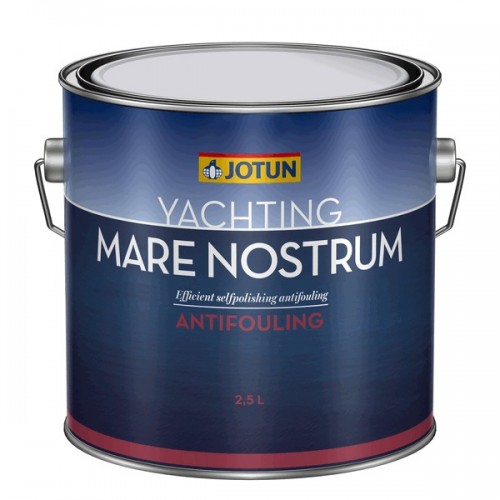 Jotun Mare Nostrum SP is an efficient self-polishing antifouling paint created with special binders to ensure an active surface. All antifouling paint colours are suitable for use on all substrates except for aluminium hulls where colour white is only recommended for use.
A self-polishing antifoul paint; the biocide and the resin are dissolved in a predictable rate. As a result, there is always a new fresh layer of antifouling in contact with the sea water that allows for a regular leaching rate of the biocides throughout the whole service life of product. Ideal for cruising and sailing boats.
Only white colour antifoul is recommended for aluminium hulls
Coverage: 10m2/litre
For thinning, use Jotun thinner no.7
Launching time: 9 months maximum
In order to select the correct antifouling for your boat and usage, it is important to consider the type of boat, the frequency of usage, geographical location, current antifouling and whether the boat is frequently transported by trailer. It is also recommended to keep in mind the environmental aspects and local regulations.
In order to ensure the best suited antifouling paint to fit with the existing paint system on the boat it is recommended that one of the below three steps is followed;
If you know which antifouling paint is currently applied to the boat hull, follow the application chart shown in picture four of product listing
If the current antifouling is unknown, a sealing coat of vinyl primer must be applied prior to the application of Jotun Mare Nostrum SP antifouling paint
If the current paint system is damaged or badly worn, remove coat by coat until a complete and undamaged surface coat is revealed (i.e. paint or original substrate). Sand the surface and apply primer according to the recommended paint system for the particular substrate that antifouling is to be applied to prior to the application of antifouling paint.
Delivery & Returns
Standard shipping: UK Mainland - £5.95
Standard shipping: UK Highlands and Islands (2kg) - £5.95
Standard shipping: UK Highlands and Islands (12kg) - £9.95
Standard deliveries take up to 3-4 working days to be received.
Next Day shipping: UK Mainland (10kg) - £8.95
All orders placed using Next Working Day shipping method must be processed by 13:00 hours. Any orders received after this time will be shipped the following day (excluding Saturday/ Sunday) on a next day service.
Timed Service before noon: UK Mainland (5kg) - £19.95
Timed Service before noon: UK Mainland (10kg) - £26.85
Please be advised that the above shipment charges are not applicable to boat and engine sales.
In the unlikely event that you are not entirely satisfied with your purchase, we will exchange or refund in full, excluding carriage, if goods are received back by us in the original saleable condition within 28 days of the date shown on your invoice. Goods are to be returned by you at your own cost with all original packaging.
We do not refund the cost of original postage and return shipping charge occurred to customers *
If you are returning a product in exchange for another size or colour, carriage will be charged on the replacement product.
Returned goods must be packaged securely, with all original packaging undamaged and all tags and labels still attached to product in a saleable condition i.e. goods must be returned in the same condition as when received. When returning goods, goods remain the responsibility of the customer until received by us at our address shown below, we therefore recommend that a courier is used that offers a recorded, trackable method of shipment. Please retain a proof of postage.
Please be aware that we do not offer a refund/exchange on damaged goods, special order items, oils/ liquids or products made to order i.e. cut lengths of rope, chain and wire.
*For further information relating to product returns, please refer to our returns policy.
How to make a return
1.
Complete the Returns Form included with your order and return inside parcel along with a copy of original receipt.
2.
Return the item to us at: Liverpool Power Boats, 105 Rimrose Road, Bootle, Liverpool, Merseyside, L20 4HN
3.
When we have received the item, we will notify you by email.
4.
If you are eligible for a refund, we will do so within 7 working days of receipt of the return. Refunds will be credited to your original method of payment.
5.
Returned items are your responsibility as we do not offer a pre-paid service and so we recommend that you return items to us via a recorded, trackable method.
Jotun Mare Nostrum Self Polishing Antifoul Paint - 2.5 Litre